Fire glass is the newest trend in fire pits and fireplaces, and you'll be glad to hear that it requires little to no cleaning or maintenance. When you choose fire pit glass to replace your fake ceramic logs, you'll add a colorful and beautiful design element to your home or yard.
Fire Glass Basics
When combined with a natural gas fuel source, fire glass rocks are one of the cleanest options available for fire pits and fireplaces. Since fire glass does not actually burn, it does not emit any smoke, ash or harmful toxins into the atmosphere. The natural gas is what burns, so there are no byproducts like carbon or soot to cause buildup. The glass has been tempered to withstand high heat, radiating warmth back into the area around it. When installed properly and used normally, it will last a lifetime. While you may want to occasionally rake, mix or shape the glass, it won't discolor or wear out.
However…
Like anything else in your house, fire glass used indoors can collect dust. And like anything else outside, the fire glass in an outdoor fire pit can get dirty over time. Fortunately, it's very easy to clean your fire pit glass and leave it sparkling like new.
 How to Clean Fire Glass Crystals
1. Remove the fire glass from your fire pit or fireplace. Be careful of any small pieces of broken glass; this is a great time to sweep those into the trash.
2. Wear protective gloves when handling fire pit glass. Especially important when touching Original or Crushed fire glass, gloves will ensure you avoid contact with any sharp edges.
3. Put the fire glass into a strainer in small batches.
4. Wash the fire glass with simple dish soap, or make your own solution of distilled water and vinegar. You can do this in your sink or outside with a hose.
5. Rinse fire glass thoroughly with water.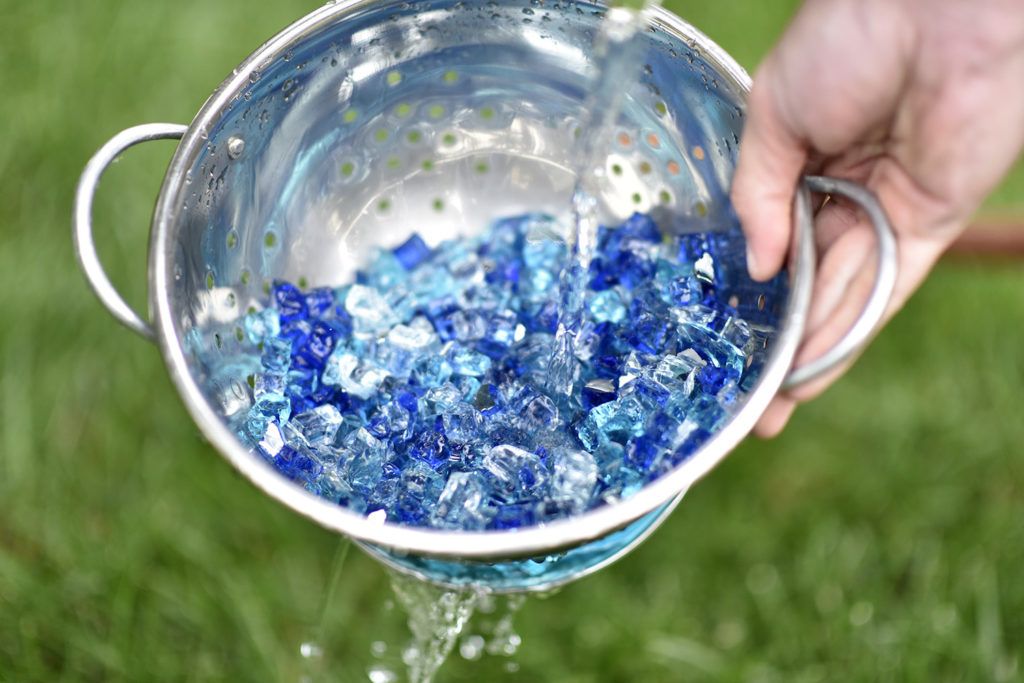 6. Allow fire glass to dry.
That's it! It's easy to keep your fire glass clean. Many of our customers rotate their fire glass seasonally, changing colors throughout the year. If that's you, the transition between different types or colors of fire glass is the perfect opportunity to clean your glass. Wash the fire glass, let it dry, then bag it up until the next time you plan to use it! It'll be shining like new when the seasons change again.
Fire Glass Cleaning in Propane Fire Pits and Fireplaces
If you are using propane instead of natural gas, there are a few more considerations when keeping your fire glass clean. We recommend using natural gas if possible, since it burns cleaner and produces less sooty buildup. But if you do decide to use propane, here's what you need to know.
You may need to clean your fire glass more often if using propane, because propane burns darker than natural gas and can cause some discoloration to your glass.
Propane burns darker than natural gas, which can cause some discoloration to your glass. This means you may need to clean your fire glass more often if using propane. We recommend choosing darker colors of fire glass to help limit the discoloration. Our Midnight Black fire glass is a great choice for propane fire pits. Discoloration only occurs in direct contact with flame, so you can utilize lighter colors of fire glass on the edges of your installation.
Since propane is heavier than natural gas, it is also recommended that you install both an LP converter or air mixer to make the gas weigh less plus a pan burner to prevent the gas from sinking. These steps will ensure the gas flows correctly around your fire glass and produces the desired effect.
A Clean Home is a Happy Home!
We think you'll love the feeling you get from using fire glass as a clean alternative to wood burning fire pits and fireplaces. Anyone who's ever labored in front of a fireplace with a shovel and a face full of ash can testify – fire glass is the way to go! And as we've shown you, keeping it clean is a walk in the park, especially when using natural gas.
Do you have any tips for keeping your fire glass clean? Comment below.